The fun part of being into wine is the wine tastings which may prove a massive eye opener. The same goes for a wine club where you and your mates are bound to grow smarter with each wine you try. And that's no matter whether you spit out the wine or not.
Wine tasting – taste and learn to the delight of all
A wine tasting can be a huge eye opener. The same goes for a wine club.
There are lots of opportunities to go out and try some wine. The easiest way is to sign up for tasting events at your local wine merchant. This will give you the chance to try out lots of wines at a relatively low entrance fee.
Sometimes a wine importer will have a kind of trade exhibition where many of the importer's suppliers will come to demonstrate their wines. Great opportunity to taste away! However, it may seem like an insurmountable task to work your way through a giant tasting of perhaps several hundred wines.
Another option is to throw your own wine tasting. This is a method we highly recommend if you wish to step it up a bit. It'll enable you to enjoy fewer wines while giving you the chance to dig a little deeper and have a great chat with fellow fans of wine.
How to make your own wine club
A community of wine lovers. Find yourself a handful of good friends who have an interest in wine and food. Ask them if they're up for starting a wine club of your own.
Talk to each other and work out what kind of club you want. How professional do you want to be? Should it be blind-tasting for all wines? Is there a minimum or a maximum concerning the price level? Will you take turns hosting your gatherings?
A great recipe for a wine club could look like this:
Get together 8-10 people so that one bottle per wine will be enough.

BYO (Bring Your Own) as a general principle.

Take turns hosting.

The host will set the date and theme a couple of months in advance.

Guests will bring one, two or three bottles per person within this theme, if possible.

The host will cook some food which might match the theme.

The host will present and serve the wines.

Be curious; taste and savour the lovely wines and the pleasant company.
How to throw a great wine tasting
Fear not the guessing game, and knowledge will follow! You should seriously consider blind-tasting once you've worked yourselves around the basics of tasting. There's SO much learning in blind-tasting.
It does, however, require a certain amount of intimacy and confidence among participants before people will feel comfortable guessing away because there're bound to be some absolutely wild guesses. And lots of them. Make sure to create a nice atmosphere where it's okay to laugh at yourself and each other.
Examples of themes could be a specific grape, district or type of wine. You might also be fortunate enough to have lots of bottles from the same winery but different vintages.
That's called a vertical tasting. A horizontal tasting is when you only have one vintage but several different producers from the same district.
When deciding on a theme, the only limit is your imagination.

Practicalities of a wine tasting
The host should make sure that the tasting is carried out at a good dining table in a well-lid room without too many disturbing elements such as scented candles, cooking smells and the like.
Wine will taste better in the right glass. The glasses used for tasting ought to be see-through and without engravings and faceting. The guests may bring their own glasses, or the host may offer to lend out glasses. Each participant should have a drinking glass for water. Put plenty of water on the table, with and without fizz, but preferably without lemon and other flavour additives.
It's often a good idea with a spitting bucket. It could be champagne cooler, a bowl or a decanter if you haven't got the real deal.
Taste your wine in heats
Divide your tasting into heats of two or three wines at a time and remember to eat a good meal in the middle of it, accompanied by one or more of the wines from the tasting.
And then it's basically just a matter of following the classic and highly generalised serving tips which remain a good guideline for a successful dinner:
Young before old

White before red (except for white dessert wines)

Dry before sweet

Light before heavy
Be curious, taste and have fun. Remember, wine tasting isn't a competition. On the contrary, it's a team effort.
Get your wine buddies and go explore the world of wine.
Happy tasting.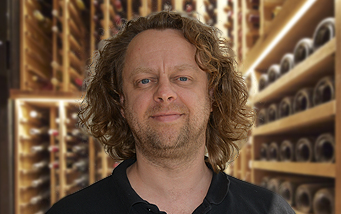 Michael Kahr Jørgensen
Sommelier