---
Constantly evolving Pevino
Pevino Evolution is an upgrade that emphasizes that development never stands still when a wine fridge must be at its best. Evolution is continuous with Pevino.
When a wine cooler cabinet brand is famed for its unique quality and elegant design, it does not mean that the laurels are to be rested upon. Denmark's coolest wine fridge is here in an upgraded and improved edition, where you get a little more of everything for your precious bottles.
A solid base
The fundamentals are the same as for the rest of the range from Pevino. The shelves are still in solid oak on telescopic rails, and there are still the magic extra few centimetres gap between the shelves thus providing space for bottles of a slightly larger diameter. The lighting is as usual dimmable in five colours of your choice, Pevino is the only wine cabinet on the market with this feature.
Danish designed wine fridge
The design expression, as always with Pevino wine coolers, is clearly Scandinavian with minimalist and clean lines, no handle and a discreet display. Pevino constantly keeps the Danish design tradition in mind, the new Evolution series is no exception to that.
Control panel and lighting
The design of the wine cabinet's control panel has been improved in terms of appearance as well as functionality. The panel itself has become more discreet in the intensity and power of the light emitted. The control buttons, instead of soft-touch, are now designed as solid regular buttons.
The lighting in the cabinet still runs from top to bottom in an LED rail, but now the rail is built in so that it flushes with the inner walls. This gives a more discreet lighting in the cabinet, which has also been upgraded on the exteriour.
Cabinet in one piece
The Pevino Evolution cabinet has always been insulated with the most energy-efficient materials. Now, Pevino is a more complete device, literally and indirectly speaking. The Evolution cabinet is built in a unit with discrete joints around the edges.
This creates a beautiful and uniform expression to the entire cabinet.
Wine cabinet for kitchen table-top
All models designed for installation under a kitchen table (P22 and P46) have a socket that allows you to fit the kitchen socket as desired.
Remember to provide ventilation gaps or holes in your base so that the air can circulate freely.
When building in a wine fridge
It is important that the wine fridge can get rid of the heat.
It is therefore recommended to give the cabinet additional space than the 2 cm provided by the mounted grille on the back of the cabinet. Ensure min. 5-7 cm free space between the wine fridge cabinet and the rear wall.
See user manual for details.
Wine cabinet with heater for cold rooms
The wine cooler has room for 38 bottles and it is lovely quiet.
Two temperature zones can be set to 5-12°C and 12-22°C, and the cabinet has a built-in heater making it possible for the wine cooler to be installed in a cold room.
NOTICE: All wine coolers must be perfectly plumb and level.
Interior
Computer controlled.
Pull-out shelves in solid oak on telescopic rails with steel ball bearings.
4 shelves in full depth and one bottom shelf with 2/3 depth.
There is space between the shelves for a champagne bottle
Triple insulated glass door with UV filter.
Black tinted glass door aluminum (handle-free).
Black metallic lock key at the bottom of the door.
Adjustable legs 3 cm. in height.
Reversible hinged door.
Suitable for built in.

Read information about wine storage, temperature and noise here.
Specifications
General

Placement

Built in,

Freestanding

Type of product

Wine cooler

Manufacturer

Pevino

Model

PE46D-HHSSN

No. of bottles (Bordeaux, all shelves mounted)

38

No. of bottles (Bordeaux, max)

44

Number of cooling zones

2 zones

Energy and consumption

Energy class

D

Energy consumption per year (kWh)

260

Noise level (dB)

40

Noise level

Low

Watt

120

Voltage/Frequency

220-240V/50Hz

Dimensions

Height (cm)

86

Width (cm)

59,5

Depth (cm)

62

Door width (cm)

-

Weight (kg)

46

Interior

Front colour

Stainless steel

Total number of shelves/drawers

5

Shelf type

Retractable shelves

Bottle types

Bordeaux,

Bourgogne,

Champagne

Lighting

Lighting

Lighting in multiple colours,

Dimmable lighting

Cooling system

Temperature range

5-12°C and 12-22°C

Active humidity controlling

No

Cooling system

Compressor

Can be placed in cold rooms

Yes

Other

Reversible hinged door

Yes

Climate class

N,

SN,

ST

Badge

NEW MODEL

You tube video ID 1

Cfmt0Q2-jHs

Active carbon filter

Yes

Net capacity (liters)

150
---
Customers who bought this product also bought

Pevino
Danish design and development - The ultimate wine cabinet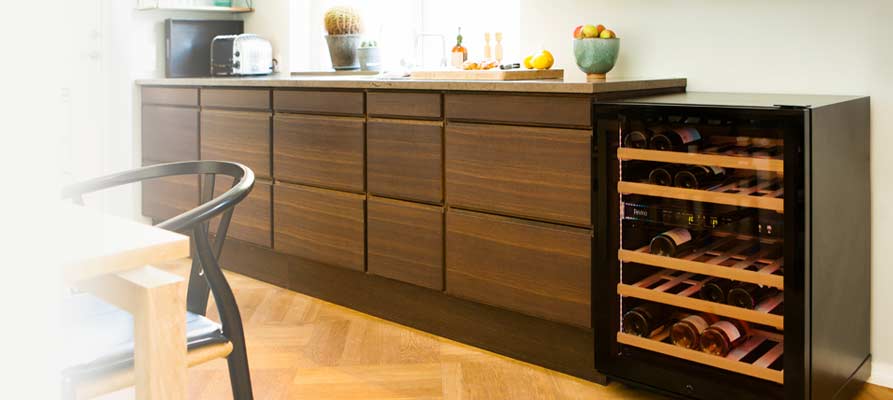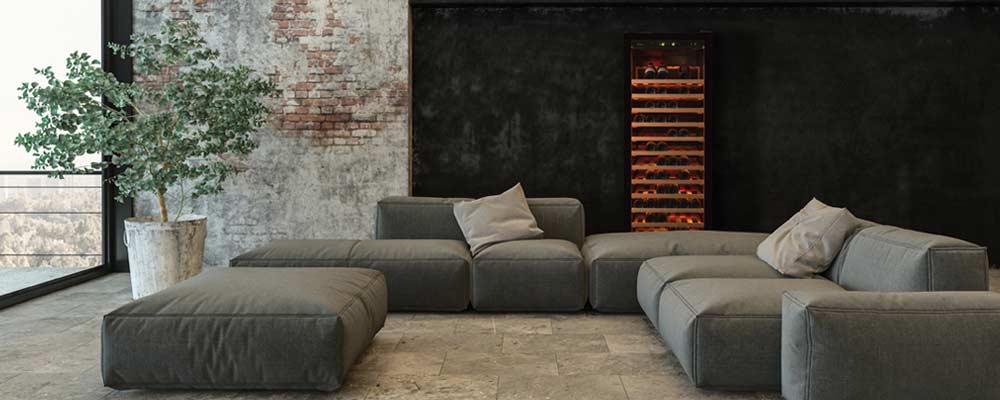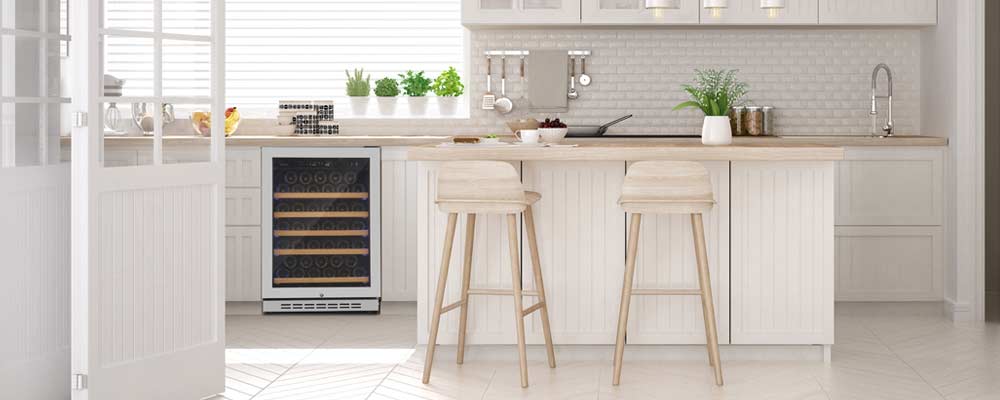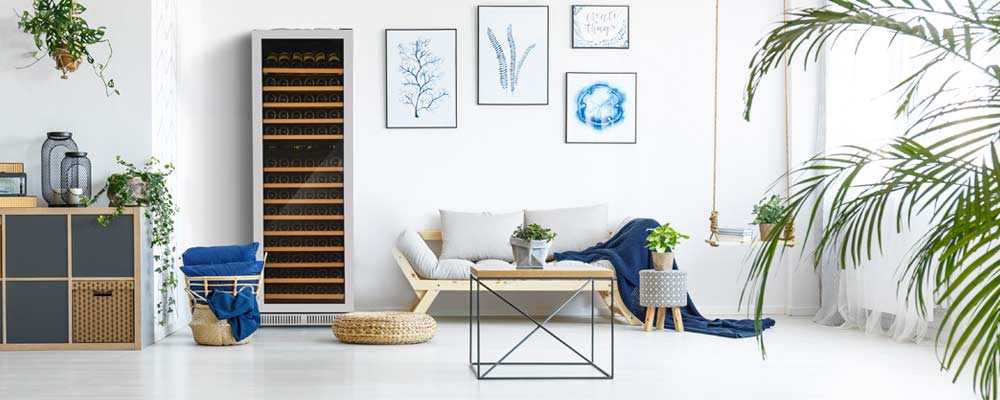 Free delivery to sidewalk
It is possible to have your wine fridge placed elsewhere on your lot provided these criteriea are met:
Easily accessible & outside
Same level (i.e. no steps or elevations)
Solid surface (e.g. tiles or asphalt).
It is possible to have your wine fridge placed elsewhere on your lot provided these criteriea are met:
Easily accessible & outside
Same level (i.e. no steps or elevations)
Solid surface (e.g. tiles or asphalt).