Pevino Pro
The wine cellar that does not need a hole in the ground - Danish design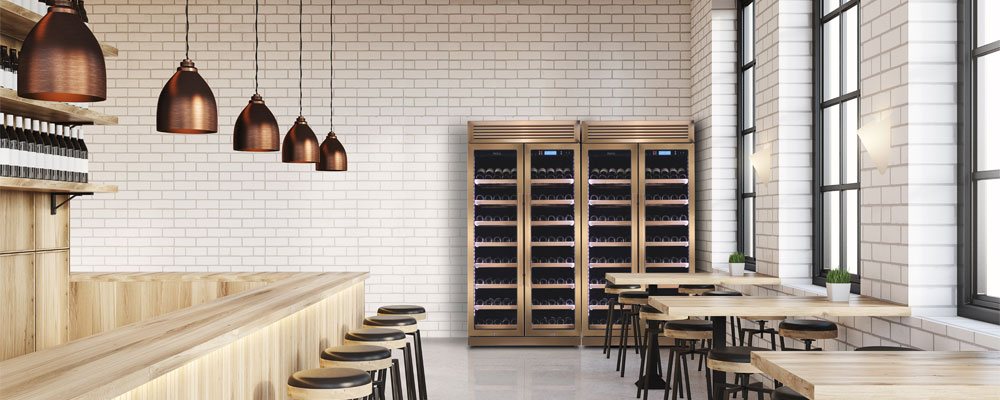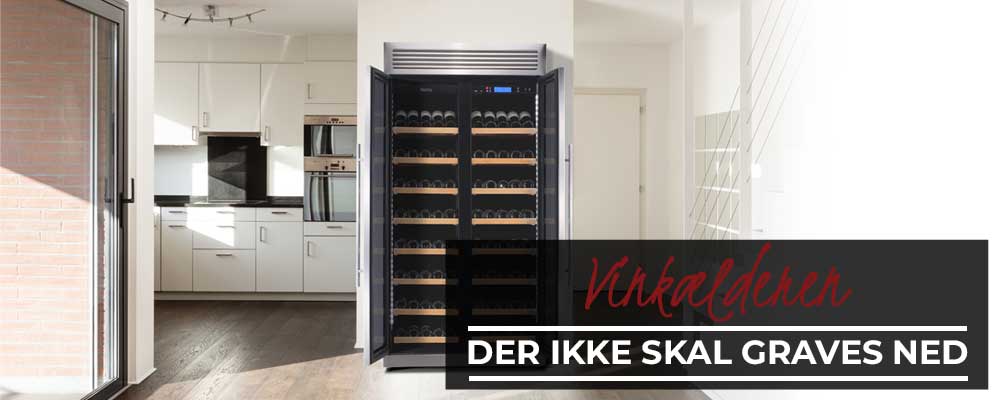 All-in-one wine cabinet
Have you also dreamt about a real wine cellar but felt limited by living in an apartment? Do not despair anymore.
PeVino Pro Series are the ultimate wine coolers for the selective wine enthusiast. Here is all you need in a single cabinet. And on top of that it looks great.
Depending on what model you choose, you can store between 280 and 320 bottles.
Wine cooler of your choice
PeVino Pro cabinets are available in three colours: stainless steel, black titanium and rose gold. The entire construction exudes quality, stability and exclusivity. The two doors are mounted with a large and solid handle in the same material and colour as the rest of the cabinet.
The cabinet exudes "here I am" - in the exclusive and self-conscious way. This free-standing cabinet signaling that the owner knows precisely what is best for the wine selection, and that there is no need to compromise on that point.
Great interior
You can decide if you want to have seven fixed shelves in the cabinet or fourteen pull-out shelves in half width.
The exclusive shelves in PeVinos wine cabines are made out of solid beech wood. The shelves are fully extendable and mounted on telescopes rails with steel ball bearings. They run smoothly and stably so you can safely pull out the entire shelf and get a good view of your wines.
All cabinets includes at least one display shelf, which lifts the bottles half up, so you clearly can see the label. The cork is still in contact with the wine in this position.
Unparalleled lighting
The lighting in the cabinets consist of UV-free LED light rails that can glow in five different colors. You can choose according to mood and atmosphere.
And if that's not enough. The lights are also dimmable.
PeVinos wine coolers are the only ones on the market with dimmable lighting in five colors.
Temperature control and lighting are computer controlled and set at an LDC touch screen via the exclusive control panel, which is mounted inside the cabinet.
A solid foundation
All wine cooler cabinets have double lockable doors and UV-protected two-layer glass.
The cabinets 860 liters storage has the capacity to store up to 320 bottles.
The cabinets have height adjustable feet, which ensures an optimal mounting.
All models have two fans, antifreeze systems, heating systems (for cold rooms) and activated carbon filter that ensures clean air.
Wine cooler with 2 temperature zones
You can choose a cabinet with one or two temperature zones.
The cold zone can be set between 5 and 12 degrees Celsius. (Perfect serving temperature for white wine, sparkling or dessert wine)

The slightly warmer zone can be set between 12 and 22 degrees Celsius.
This gives you perfect cellar cold wine that just needs to warm up a little bit in the glass or carafe to achieve the perfect serving temperature.

All models have a built-in heating for cold rooms.

PeVino Pro is not suitable for built-in.

PeVino is the ultimate wine cooler.