There are loads of great knowledge and inspiration out there when you're thirsty for more knowledge about wine. Here, we'll take you through how to go about it.
Guides, gurus and gold mines
It's impossible to know everything about wine, and the level of detail is endless if you keep seeking more information. The media, guides and gurus are fighting along with the wine dealers to win your favour. Feast on it!
When you move from merely being a consumer and enjoyer of wine where the favourite product is the old "ad lib" or the three for a 100 to developing a real taste for it, it's fantastic having so much know-how waiting for you out there.
There's so much wine literature that even this attempt at jotting down a couple of handy recommendations may easily be lost in the crowd. But we'll stick our neck out and give out some great tips.
Starter kit
A great place to start as a wine angsty novice is to get yourself a good ABC on wine. There's plenty of information online, but a nice analogue book is an excellent way to get your introduction to a new field of study.
This topic is so broad that it makes perfect sense to let a team of editors edit and select based on criteria of relevance and usefulness to the reader.
An all-round textbook on wine for you to sit and leaf through and read picked out paragraphs. In other words, a specialist book which will introduce you to the basics such as how wine is actually produced, what factors in its creation affect the flavour, grape varieties, wine districts and the different types of wine in existence.
Good textbooks
We highly recommend Worlds Atlas of Wine by Hugh Johnson and Jancis Robinson. It's a 400 page read and a very generalising work which covers a bit of everything. It's about 500 kr., but it'll be many marvellous hours of reading.
Another real treat is the encyclopedic masterpiece The Oxford Companion to Wine by Jancis Robinson.
Once you've got the textbook down, it's time to dig a little deeper. For example in district-specific works such as Søren Frank's book on Barolo, Niels Lillelund's book on the Rhône valley and particularly Richard Juhlin's En Duft af Champagne.
Guides
Since new products pretty much arrive once a year when the grapes have been harvested, the need for a new guide presenting the wines as they hit the market will invariably arise. Here, we've listed two examples of guides which are considered among the most reliable ones and which are published analogously, although several of them can be found online too.
Italian Il Gambero Rosso comes in English and Italian. This is the Bible dishing out one to three wine glasses to thousands of Italian wines every year.

The equivalent in France is called Le Guide Hachette des Vins, and the French consider it the most incorruptible (by advertising money, gifts and the like) encyclopedia. Sadly, it's only available in French.
There's a veritable myriad of guides out there. Ask your wine merchant and vinous acquaintances where they go looking for knowledge and tasting notes.
Magazines
If you'd like to be inspired by reading magazines, it's difficult to stick with the Danish ones. Sure, we get Gastro and Smag og Behag which both write excellent little pieces on wine, but they're not solely about wine.
Dedicated Danish magazines on wine are a rarity, and they tend to come into existence and go bust in intervals of about five years. However, there's a new kid on the block now, and it's looking pretty good for Din Vinguide. The real lighthouse of the world of Danish wine magazines is Vinbladet dating back to 1992. It's got a high professional standard bordering on dry. Absolutely something for the thirsty nerd.

The traditionally great wine producing countries have loads of good wine magazines, but in order to cater to the general public we want to emphasise the anglophone magazines here. American Wine Spectator is one of the big boys. High quality, a scrumptious layout and a preference for American wines and the style often associated with overseas wines.

At the other end of the taste spectrum, we have the English Decanter which may also boast a high professional standard and a nice layout. Here, the taste preferences are more towards the traditionally European.
Gurus
If any, the name Robert Parker Jr. signifies guru. Ever since 1978, his magazine The Wine Advocate has been evaluating lots of different wines based on its famous as well as infamous 100-point scale. You can access all of it at robertparker.com, and it's a great source on tasting notes and knowledge about wineries from all over the world. The taste and style are a bit to the full-bodied, heavy side although Robert Parker has now stepped slightly aside and left it to a team of experts with broader and more nuanced taste preferences.
If Robert Parker is the king, we've got the queen in the other corner: Master of Wine Jancis Robinson. Her website jancisrobinson.com is equally full of tasting notes, but on top of that her site is a virtual bonanza of knowledge and news. The point scale goes up to 20, but the style and taste are definitely the classic European one.

Both websites are about 700 kr. a year for a full membership, but if you're serious about it, it's money well spent.
Thus, the sum-up is this:
To get your basic knowledge down, you should buy a good textbook or two. Then swiftly move on and lose yourself in the geographically specialised works depending on your desires and needs.
To stay updated, the big guides are great in combination with a membership with one of the gurus and/or media of good standing. You could do this the analogue way as well as the digital way.
Lastly, only this simple little three-stage rocket remains:
1) read
2) taste
3) learn

Repeat from number 1 through 3 and repeat again.

Have a good time.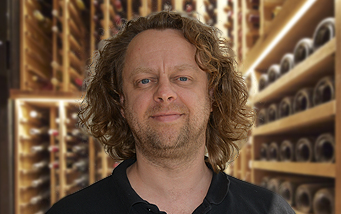 Michael Kahr Jørgensen
Sommelier