Lighting / Lamp
The right lighting creates the perfect atmosphere for your wine room.
Supercone is a series of lamps uniting simplicity and complexity in the finest way. The objective behind the beautiful lamps is to make the bright light from even the most powerful modern energy saving bulbs soft and friendly in a beautiful and harmonious way.
In addition, it is a basic principle of Supercone that the lamps are assembled based on the principles of tongue and groove.
The lamps are thus assembled by hand without the use of glue, screws, clips or nails.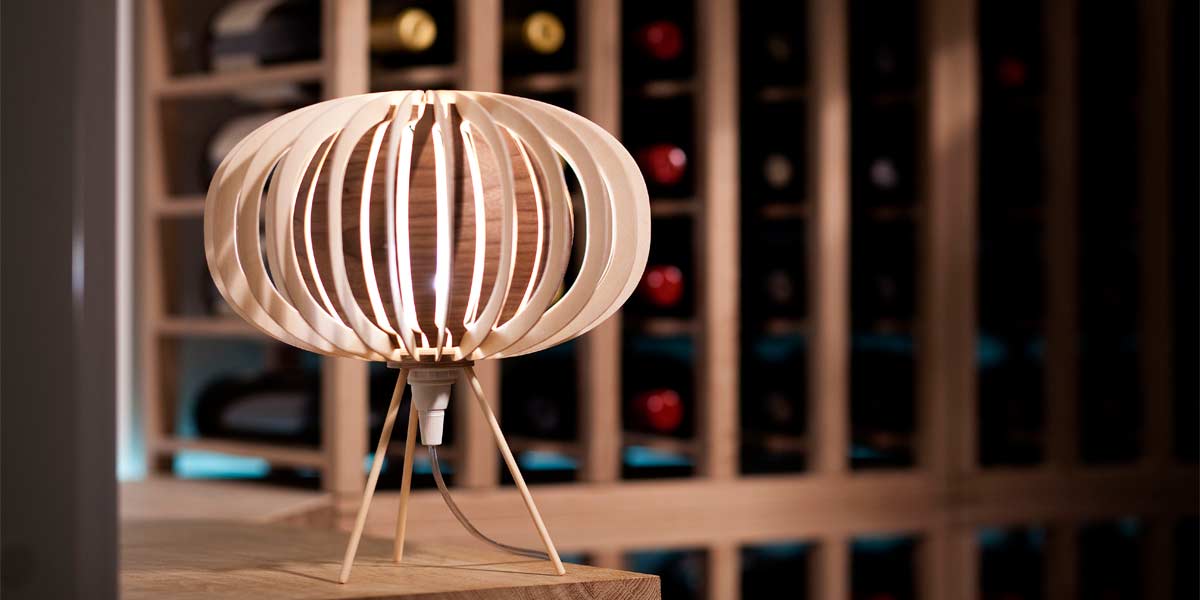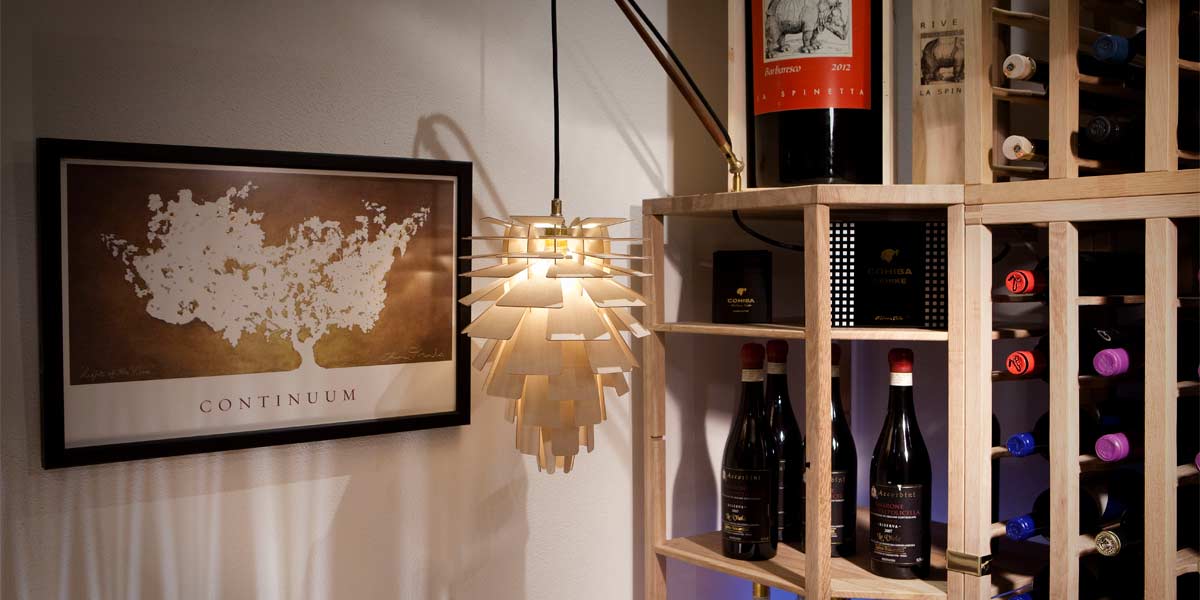 The most simple ideas often arise from basic and basic principles. Danish design lamp
The design includes a great greeting and respect for the history and tradition of Danish design.
In terms of design, Supercone is inspired by shapes from nature. The minimalistic expression is a clear nod to the Danish and Scandinavian modernist tradition in interior design and design.
An ingenious detail is that the lamps are available as pendant lamps and table lamps with the exact same shade that is simply turned upside down.
The finest Finnish veneer
The beautiful lamps are made of wood, but not just any kind of wood. The finest possible birch veneer from Finland is the basic ingredient in all Supercone lamps. The plywood used is of the type "Aircraft plywood" and was, as the name suggests, originally developed to build planes during World War II. The veneer is of high strength and the finest flawless quality.
The plywood for the lamps is certified with the international PEFC standard (Programme for the Endorsement of Forest Certification), which guarantees sustainable forest management and traceability of wood products.
Acrylic is also used in some versions of the lamps' shades to provide another kind of refraction of light, resulting in special lighting and ambience.
Stylish pendants
Basically, the lights from Supercone are divided into two categories, pendants and table lamps.
A pendant hangs from the ceiling, creating beautiful lighting from both the top and out into the room. With its beautiful veneered tops, the Spruce model is an elegantly updated nod to a classic Danish design tradition.
With elegant round shapes, the models Pumpkin and Drum are designed with a design idiom that evokes PH's Snowball but also Verner Panton's universe from the 70s.
Tripod as floor lamp
One of the smart things about the lights from Supercone is that their design works just as well when turned upside down.
When a pendant is mounted on a tripod in English, completely new possibilities arise.
The lamps are designed to fit perfectly in as a mood-creator in a wine cellar. They are perfect for an environment based on the exclusive wine racks from Moldow Wine Racks.
All Supercone lamps are handmade without the use of any type of screws, nails or glue.
As we can see, the simplest ideas and basic principles give rise to the most beautiful lamps from Supercone.