Affordable wine racks with the market's cheapest storage per bottle.
Here are our best sellers. Wine racks and holders of many varieties, all of which have a good price in common.
Our range of racks and racks for wine covers a wide range of designs and prices. Here in the Vinikea range, you get high value for money.

If you need a small shelf unit for the bottom of your kitchen cupboard, or if you need boxes for both transport and storage of wine, you can find them here.

Just because the budget isn't unlimited doesn't mean you have to compromise on design and quality. On this page you will find plenty of good examples of wine racks for limited space and budget.

If you're looking for creative and decorative ways to display your bottles, you'll find them here too.

Cheapest per wine bottle
Eliza and Cava are wooden wine racks that give you the cheapest price per wine bottle to store in your wine room or basement. They are easy to assemble and look great while allowing you to pick a single bottle without having to move other bottles.

The fine modules, Elba, Gavi, Lago and Boca with fixed frame and different interior in the form of five-star bases or shelves are very large. They are ideal for stacking on top of each other, so you get a beautiful bookcase in a combination and size that suits you.

When it comes to metal wine racks, we also have some good options. Fina is a beautiful black metal wine rack where you can store many bottles at a reasonable price – both in our inexpensive range of Vin ikea wine racks.

Fun and beautiful
If you want to display some of your favourite bottles on a wall as a decorative feature in your interior design, we also have many beautiful solutions.

The fine rods with drilled holes are great for your kitchen or dining room wall. And they are available in wood or brushed aluminium.

As a special decorative feature, the Vini wine holder allows you to mount 12 bottles on the wall and let them form a clock face. You can choose whether you want us to deliver or whether you prefer to handle another solution yourself.

Bookcases for those of you who store wine in whole boxes.
Roma is constructed in metal with two wooden shelves mounted on telescopic rails as a type of flat drawer without sides. Here you can display your beautiful wine boxes while the bottles are easily accessible.

The ROMA shelving units can be stacked on top of each other and placed side by side to make a large shelving unit for the gorgeous wooden boxes.
We recommend that you limit yourself to stacking three cash register shelves on top of each other.
We also recommend that you attach the modules to the floor and wall for optimal stability.
That's a lot of kilos to keep track of. Especially when a fully loaded shelf is pulled out completely.
The shelves are delivered unassembled and can easily be assembled by following the enclosed instructions.
No empty wooden boxes are included with the purchase of the ROMA wine box module.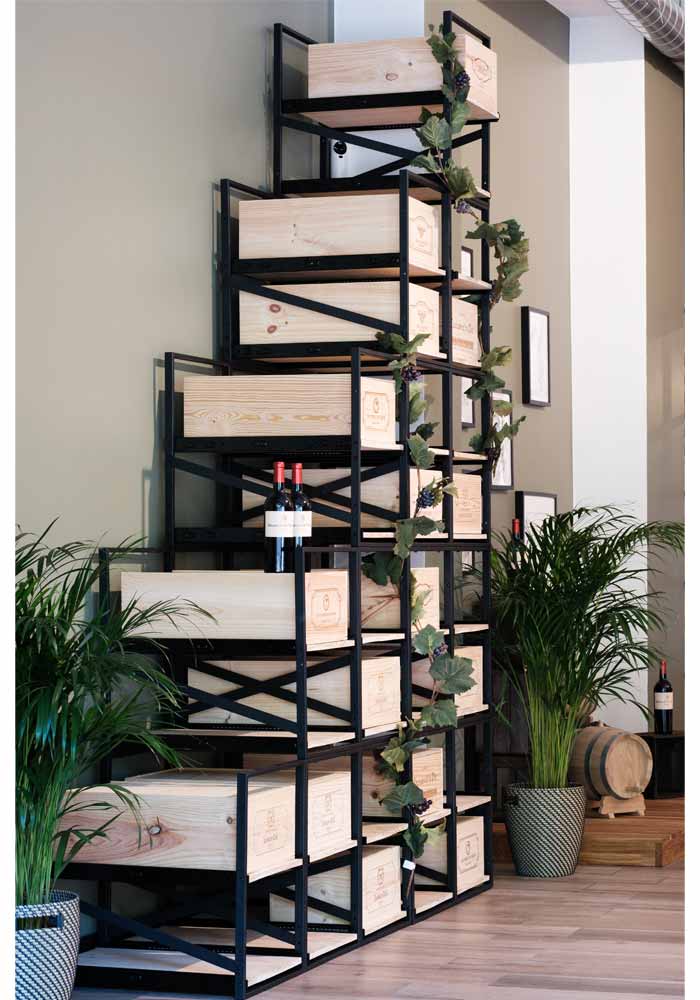 Boxes for bottles
At the very simple and decorative end, we have some beautiful boxes. The concept is similar to the old wooden beer boxes with handles.

The boxes can be stacked on top of each other, but can also be tilted so that they lie down and thus function as a wine rack.
Plexiglas wine racks
With the smart acrylic wine holders, you can display your bottles in the finest way possible. Whether it's a wine rack for the wall or a smart display for a single bottle you're looking for, you'll find it here. Vino Art Design has developed and designed a series of unique wine holders, all based on acrylic panels.
Plexiglas is the story of a brand that has linguistically become synonymous with a more general thing. Just like Jacuzzi is a trademark that is sometimes used as a general term for spas. Other examples are Kleenex, Post-it, Walkman and even Frisbee.
Acrylic bottle holder
Plexiglas is made of acrylic, which in turn is a plastic material. A plexiglass wine rack is thus exactly the same as an acrylic wine rack. Clear acrylic is fine and transparent as glass, but very strong and not as fragile.
The acrylic wine racks from Vino Art Design come in an incredible number of shapes and sizes. Throughout, the design is elegant and with a style that points to a modern Italian and Scandinavian expression. This can be seen in the light, streamlined and almost minimalistic look.
Among the many fine designs are everything from whole shelves to holders of a single wine bottle.
Wine holder for wall
Vino Art Designs acrylic wine racks are available in models that can be mounted on your wall. The floating bottles look very elegant when hung on a clear plastic wine rack.
They can be hung in your living room, kitchen or wine room. In this way, you can beautifully utilise all the space in your wine cellar with a beautiful wine bottle rack in clear plastic.
Wine holder for the floor
If you're looking for a beautiful wine rack with a large capacity and you want to keep the elegant floating look, there are some really beautiful clear acrylic display racks from Vino Art Design.
Here, too, you can furnish a small wine cellar with elegant wine racks in clear acrylic. Some models have display shelves where the bottles are tilted. You can suitably have your finest wines on display.
Acrylic bottle holder for the table
Among the slightly smaller versions, there are a lot of smart and elegant holders for one, two or more bottles.
The bottle holders are perfect for a table, bar counter or a nice place in a shop. There are also many restaurants that use them to display a wine that is, for example, the wine of the month or similar.
Acrylic serving tray
Vino Art Design can also supply trays in acrylic sheets that are bent into attractive shapes. A plexiglass serving tray is an elegant way to present a welcome drink or snacks.
Wine dealer or restaurateur – bottle racks
If you as a company would like to present the wine of the house or the wine offer of the week, there are plenty of beautiful possibilities in the acrylic products from Vino Art Design here.
The models Ostuni and Assisi are even so demonstrably arranged that there is room to put a sign the size of a business card at the base of the bottle in the holder. With such a nice stand on the table or reception desk, you can present your guests with a very special bottle and at the same time inform them about a great offer or similar.
In general, plexiglass or acrylic wine racks are very useful in shops or the hospitality industry (HoReCa). Besides being nice and elegant, acrylic wine holders are also extremely easy to clean with a cloth and soapy water.