Which wine cooler should I choose?
How do you choose the best wine cooler? Basically, it's all about which wine cooler is best for you and your needs. For example, if you need ready-to-serve wine for your guests, then a two-zone wine cooler may be preferable to a one-zone wine cooler. It's also a good idea to think about where to place your wine cooler. And what about energy consumption now? Here are 6 top tips for choosing the best wine cooler.
How many cooling zones does my wine cooler need?
When looking for the best wine cooler for your specific needs, the number of zones in the wine cooler is something to consider. If you want to use the wine cooler for maturation and long-term storage of wine, the best choice is a single-zone wine cooler, as most wines ripen optimally at a stable temperature of 12–14 degrees Celsius. This applies to red wine, white wine, sparkling wine and dessert wine. If, on the other hand, you want ready-to-serve wine for you and your guests, it may be a good idea to consider a wine cooler with two zones. In a two-zone wine cooler, one zone can be set colder than the other, allowing you to have white wine and sparkling wines, for example, in the fridge at 6–8 degrees Celsius, while your red wines are at 14–16 degrees in the other.
Where can you place a wine cooler?
Generally speaking, there are three ways to place your wine cooler. These are freestanding, built-in or integrated.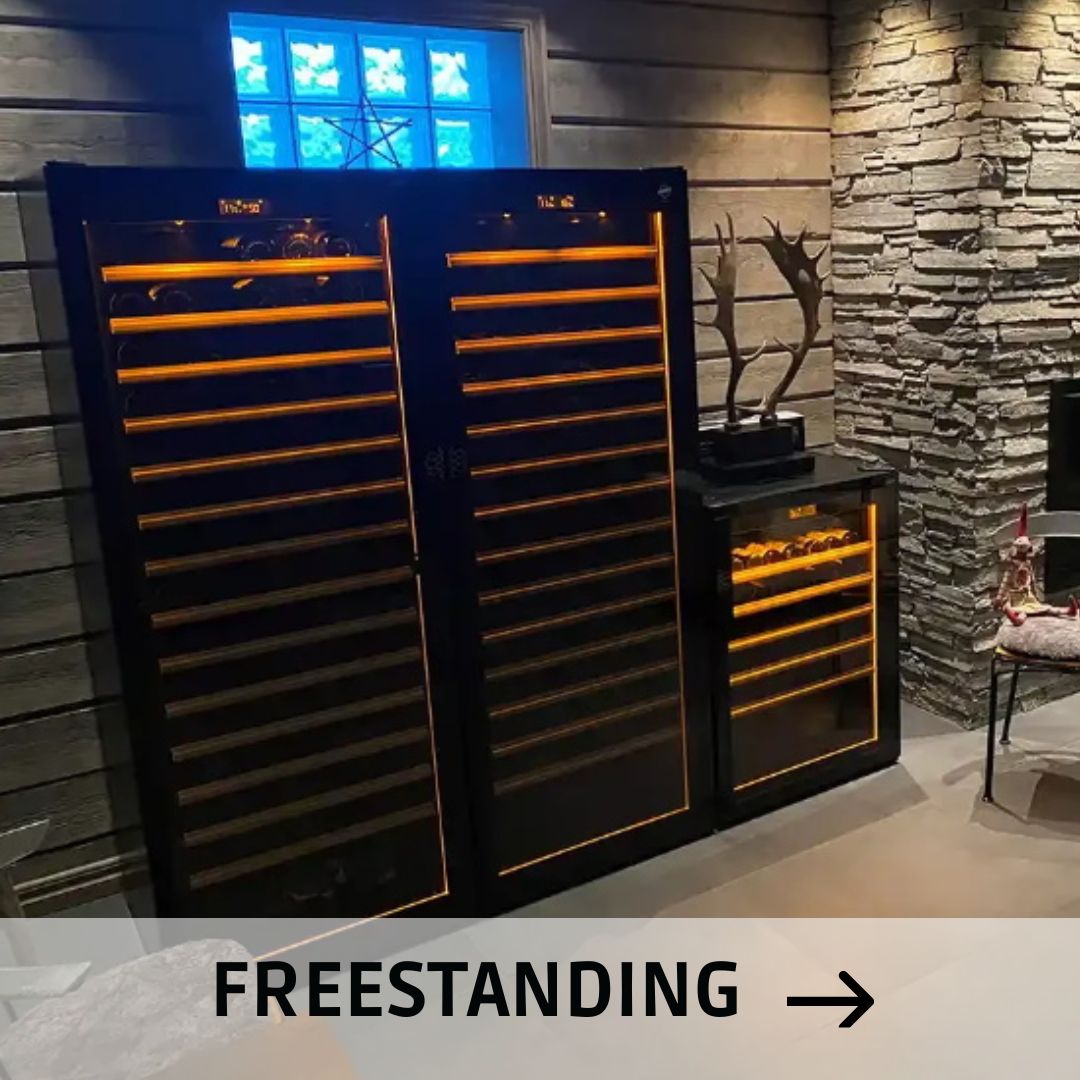 As the name suggests, a freestanding wine cooler can be placed freely on the floor. This is the most common way of placing a wine cooler, and the vast majority of wine coolers on the market can be placed in this way. It is important to allow a few centimetres of air on each side of the wine cooler to dissipate the heat.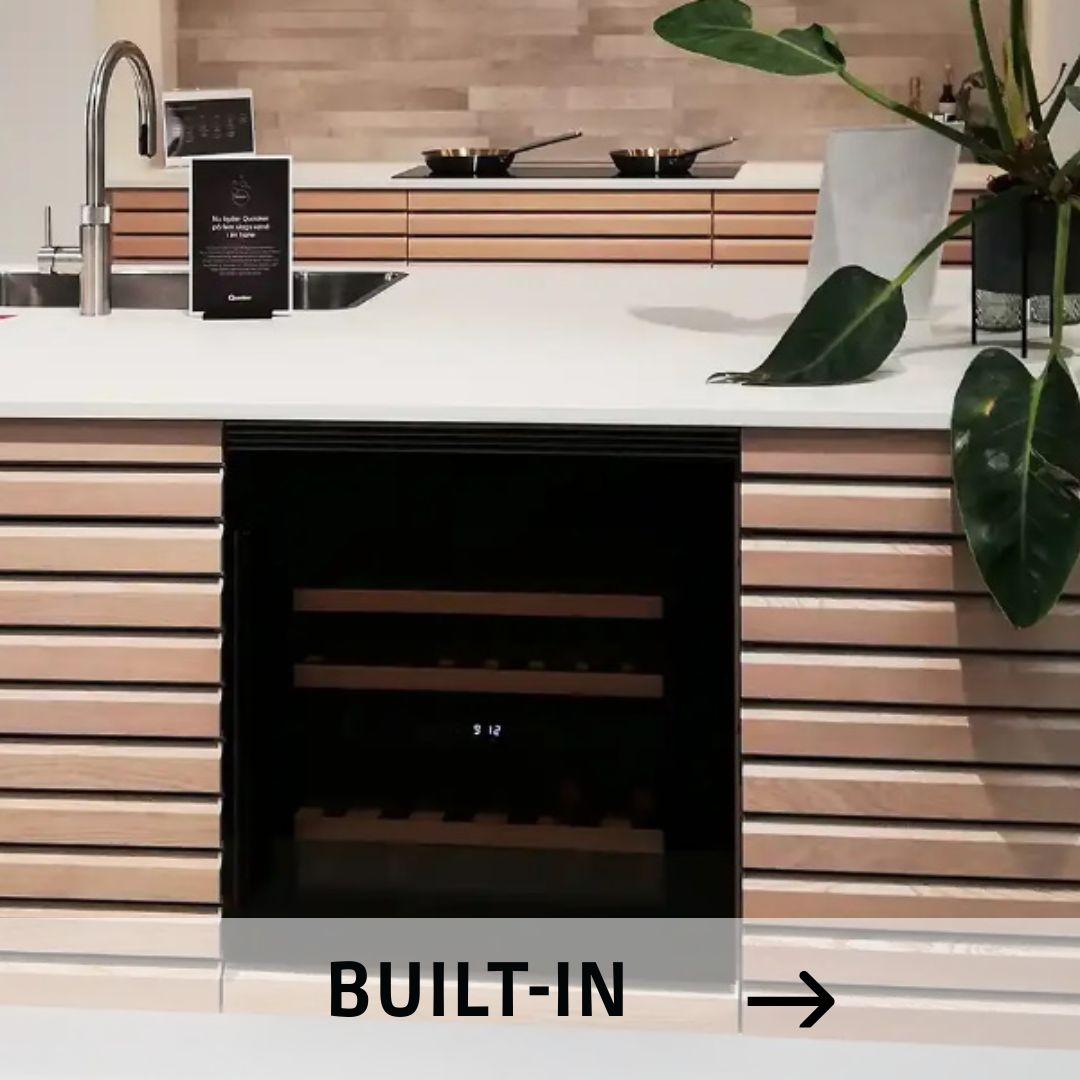 A built-in wine cooler allows you to replace an ordinary kitchen unit with a wine cooler. If you choose to buy a built-in wine cooler, it is important that you choose one that is prepared for it. This typically means that the wine cooler needs to be sucked in at the base. As with a freestanding wine cooler, a built-in wine cooler must be able to get rid of excess heat, which means that it must have at least a few centimetres of free space from the top of the wine cooler and up to the underside of the worktop. It is also important that there is air on the back of the wine cooler.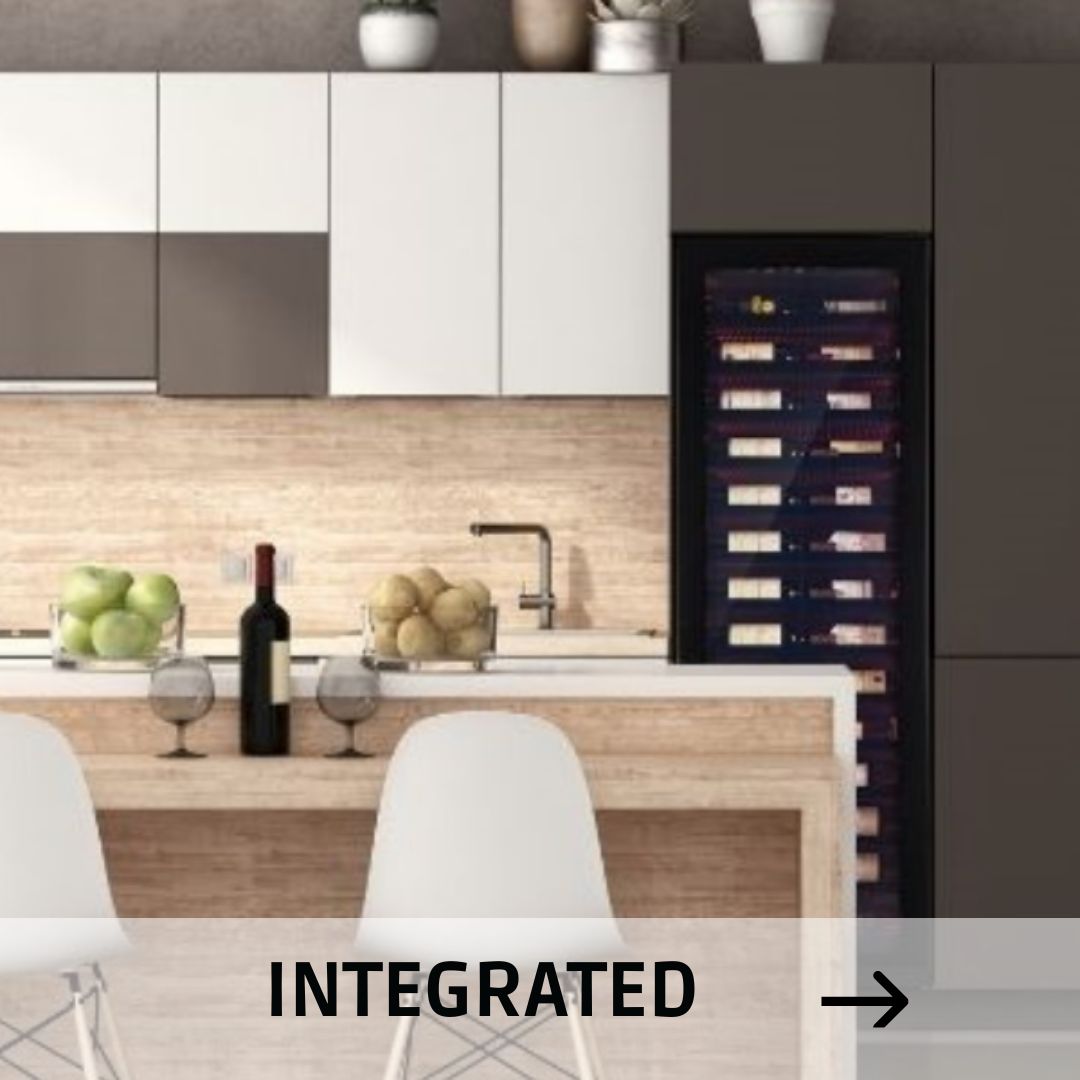 An integrated wine cooler is made to integrate with an existing kitchen module, which is a really attractive solution in a modern kitchen. The door of the wine cooler has the same width as the kitchen module to cover the sides of the kitchen cabinet, while the rest of the wine cooler is narrower to fit into the existing kitchen module. As with the other two types of wine coolers, it is important that the hot air can escape from the integrable wine cooler. It is particularly important that the air can escape from the back upwards to allow free passage at the top of the cabinet. Also, make sure you have an air intake in the bottom of your kitchen cabinet, for example by installing a grate.
Hvor stort skal mit vinkøleskab være?
Det er ikke kun selve vinen, der udvikler sig over tid. Din vinsamling udvikler sig også hele tiden, og derfor kan det være en god ide at købe et vinkøleskab, der har plads til fremtidige investeringer. Det kan jo være, at man lige kommer til at købe et par ekstra kasser af den der lækre Pinot Noir. Heldigvis findes vinkøleskabe i dag i alle tænkelige størelser, så der er god mulighed for at finde et vinkøleskab, der passer til lige netop din vinsamling. Du har måske nogle konkrete fysiske mål i det rum dit vinkøleskab skal stå i, der kan sætte nogle begrænsninger for hvilket vinkøleskab du skal vælge, men derudover er det også en god ide at overveje, hvor mange flasker du har behov for at opbevare i dit vinkøleskab. Ikke kun nu, men også i fremtiden.
How to reduce the noise from your wine cooler
As with all white goods, a wine cooler makes a slight noise. Fortunately, wine cooler manufacturers are continually improving their noise reduction performance in their wine coolers, reducing the challenge of noise from a wine cooler. However, there are three things you can do yourself.Read more about wine coolers and noise here.
How to reduce your wine cooler's energy consumption
Fortunately, most wine cooler manufacturers are also getting better at reducing the energy consumption of wine coolers (and thus also your electricity bill).
However, it's easy to ignore the fact that a wine cooler consumes electricity.How much power it consumes depends on several things.The easier a wine cooler can get rid of the heat at the back or to the sides, the less work the cabinet needs to do to cool.
As the attentive reader may sense, the possibility of getting rid of air and air circulation in general is a recurring theme when dealing with wine coolers.
To reduce your wine cooler's energy consumption, you can also avoid placing the wine cooler on underfloor heating, or right up against a radiator.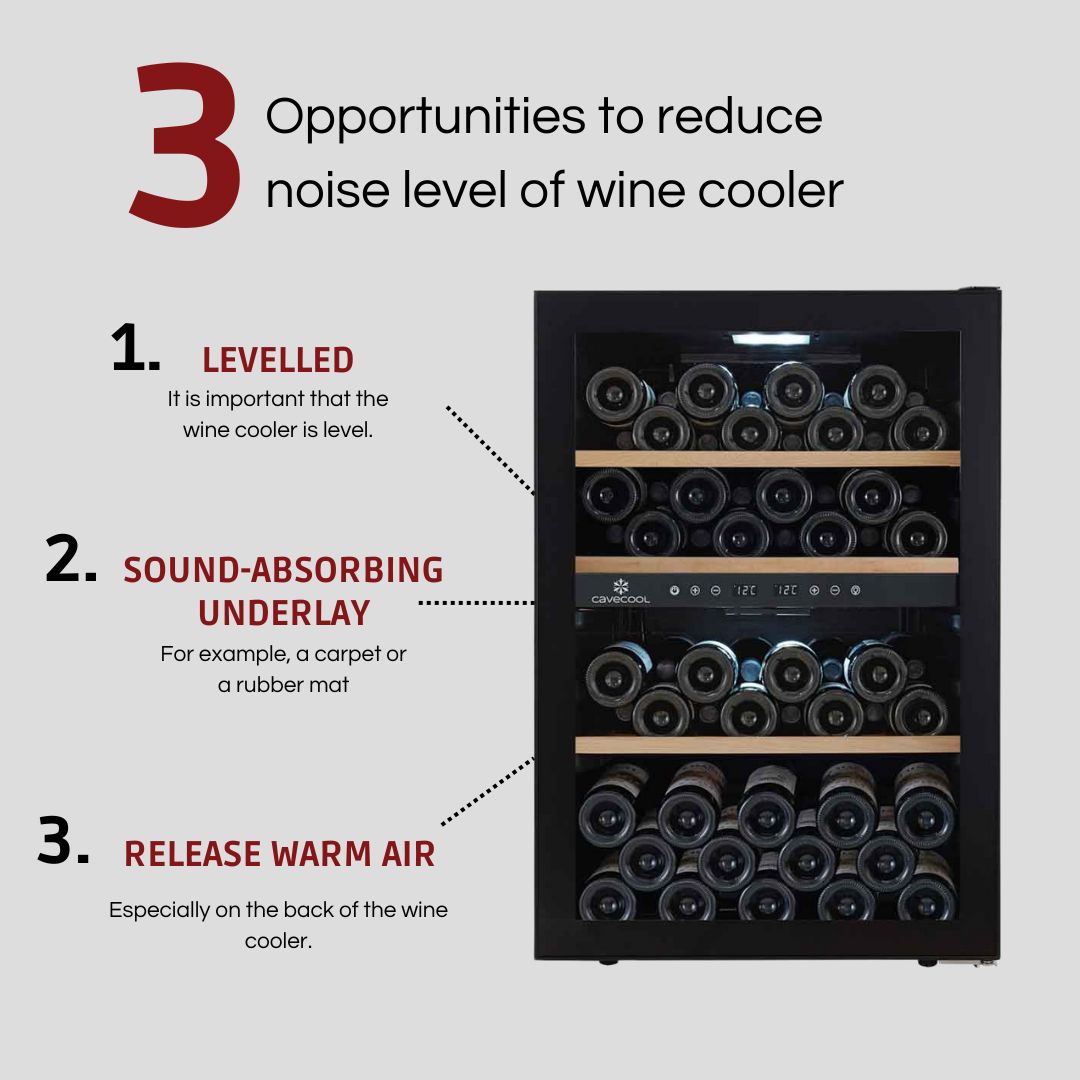 Which design should the wine cooler have?
It is almost certain that the primary purpose of a wine cooler is to keep your precious bottles safe and sound, but therefore the wine cooler has to be seen by the gerne, not? The wine requirements are available with a wealth of different details, ranging from different colours to different types of light and shelving. The wine coolers from brands such as Pevino are among the best when it comes to obese features and quality, but also brands such as Danish Cavecool give a lot of great details for the money.